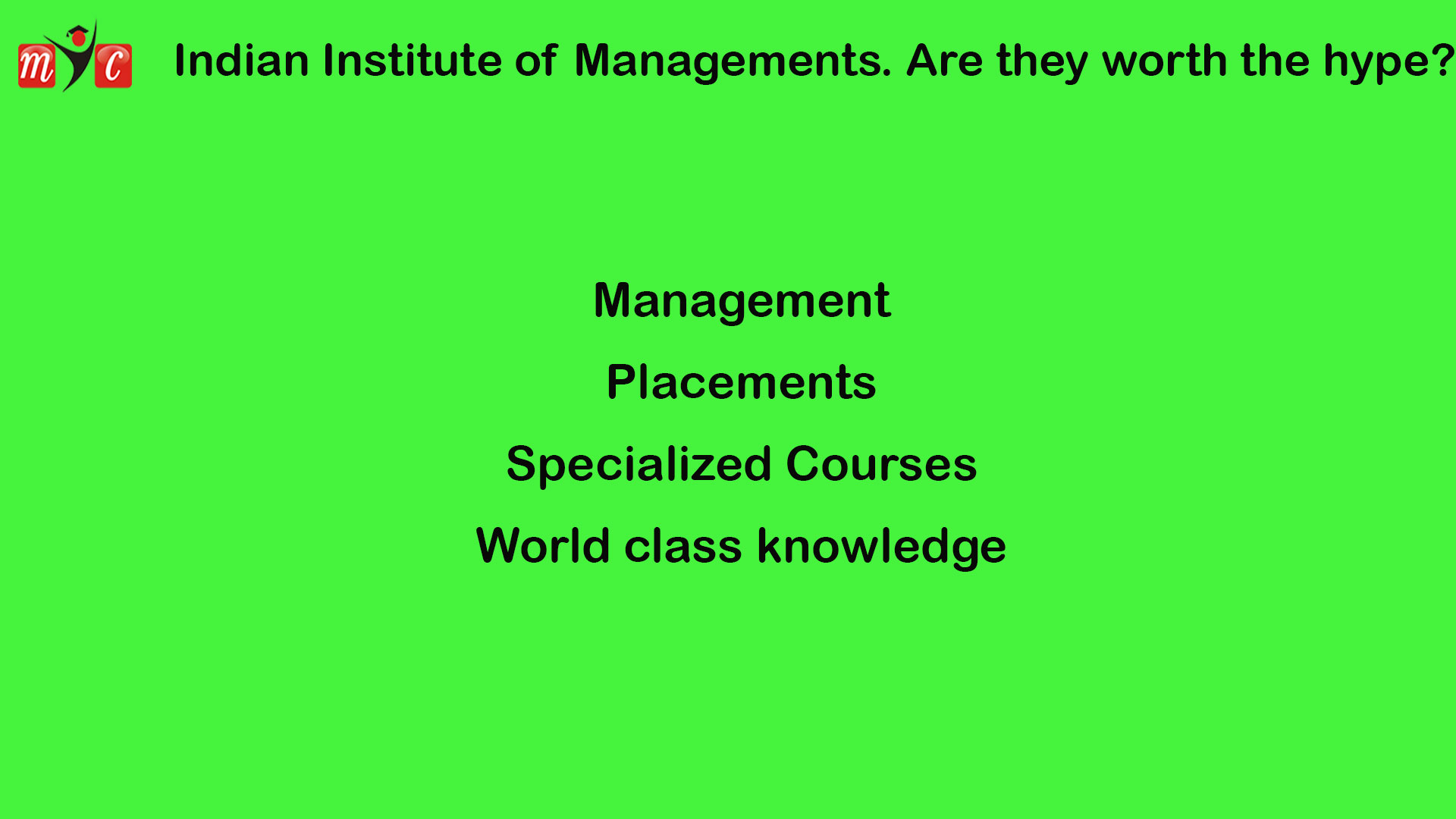 Indian Institute of Managements. Are they worth the hype?
Management education has been at the center of India's economic boom with India producing top executives that rule the roost when hiring statistics come into the picture. It is believed that Indian managers are preferred over other nationalities because of their incline towards manager like qualities that include discipline, quick problem solving attitude, broad vision, empathy towards employees and sticking towards the goal. These qualities are desired by businesses all over the world and Indians excel at maintaining these qualities over a sustained period of time without failing. The question now springs up as to how these individuals are trained that makes them so irresistible in the job market? Is it the in food they eat, the unique environment they live in or something else? Actually, the answer lies in the rigorous and exhaustive training that they receive in various top level management schools in their home country. India has been blessed with the right environment to nurture talent that coexists with a developing economy and a general business focused mindset of its people. This along with the long term vision of leaders who emerged at the onset of Indian independence gave India a head start in the management education sector. Within fifteen years of the end of the colonial rule, the first Indian Institute of Management (IIM) was set-up in Calcutta followed shortly by IIM Ahmedabad in the west of India. In the next four decades, four more IIM's were formed taking the total to seven. These select few institutes provided for the bulk of quality management education across India. Given their success, the government of India decided to initiate the process of establishing more IIM's all over the country for adding more IIM management seats. Campuses at Shillong, Rohtak, Amritsar, and Udaipur are few of the many management institutes under the IIM brand name.
Why IIM? This most elusive question has been for long on the minds of students and industrialists alike. The IIM system is respected in India and abroad for its robust academic structure and efficient knowledge transfer arrangement. That is why around a quarter million aspirants write the CAT exam every year for a few hundred IIM seats in India. As a result, competition is high and the very best get into top IIM's annually, leaving the equally talented but less fortunate students to search for tier 2 colleges and institutes, which themselves are quite accomplished centers of learning in their own rights. IIM management interview questions are considered the toughest in the world. That is why IIM's stand where they are today. There are some obvious and some hidden reasons behind their success:
They are built up from the ground: India was not a financial giant when the British left our shores in 1947. It needed to stand up on its own feet to fight the challenges of economic instability and execute a smooth transition towards a secure future. IIT's and IIM's were the final verdict to help solve this issue. On one hand, the IIT's provided badly needed technical support, the IIM's were geared towards the training of managers and administrators who would fill in the small gaps between technology, finance, government policies, human resources, marketing and other details which could have been otherwise unnoticed. For the first time, in house managers could be trained according to the Indian business context, who could understand the mindset of India and its people. It turned out to be the right choice in the end.
2.They are at par with the best: Simply put, IIM's are the leaders in imparting world class knowledge and training in the field of management and related subjects. With a strict recruitment policy for professors and associate professors, students studying here can expect high quality teaching. You can find well rounded faculty members hailing from all over India and abroad. All of them have extensive teaching experience in their core areas, bringing students closer to their subjects of choice.
3.Placements: Placements are the main forte of the IIM experience. Companies and firms from across the globe flock the campuses for high quality graduates. As a result, news of high salary placements is commonly associated with these institutes. A high percentage of graduates get reputed jobs abroad as well as in government offices in India. Financial stability is a given for students graduating out of IIM's.
4.Specialized programs: Almost all of these institutes have IIM management programs for executives and people who have extensive knowledge of the industry before joining these institutes. This enables them to create new avenues in management education. IIM management courses are varies e.g. 1 year and 2 year courses are suited for different individuals. They also provide education for government officials as well.
The Indian Institutes of Management are the benchmark for management studies across India, Asia and the world. They have been maintaining this position since their inception and the way they are performing, producing great names In the management circles every year, it is certain that they will only further rise from this position.